Shop
 Books By David Price Francis
Partners in Passion: Positively Transform Your Intimate Relationships by Understanding the Mystery of Energy Exchange
Balance the power and multiply the passion in all your intimate relationships. Partners in Passion takes you on a fascinating journey into the realms of relationships through the worlds of energy, force, and power. Filled with innovative, groundbreaking ideas and practical techniques for developing a deeper connection with your partner and increasing personal spiritual awareness, this breakthrough approach to intimacy offers a new blueprint that will enhance the possibilities and deepen the satisfactions you can experience in all your relationships.
Discover:
How men and women are energetically different and how this affects you.
How to work with energetic gender differences to create great relationships in all areas of your life.
How to recognize and move on from addictions, vices, and abusive relationships.
The 7 laws of love and how these affect the depth of attraction and energy transference possible between any two people.
The 7 levels of love and sex and how to determine what level your relationship is at.
The 15 energy secrets of a successful marriage.
 What energy mapping is and why it is so crucial to the success of your relationships.
Techniques for seeing the human aura and tips for reading body language.
How to clean and balance the energy in your home to create a harmonious ecology.
Why balancing the power between men and women is the most significant step that we can take in bringing peaceful world change.
How a relationship shifts from being partners in passion into becoming partners in evolution.
Price: $19.95
Softcover: 304 pages
Dimensions: 9 X 6 X 0.6 inches
ISBN-10: 0981550908
ISBN-13: 978-0981550909
---
The Tales of Dr.Woo: A Journey Into Truth
Find yourself transported to a different place and time to discover understandings of the energy worlds and human behavior by way of stories told through the fictional character of Hu, a student of a long ago Chinese mystery school run by the great and venerable Dr. Woo. Hu's captivating recollections from his time spent as a young student at the school of Dr. Woo recount lessons and dialogues on subjects as diverse as gender relationships, psychology, the nature of time and the many challenges and gifts of being human. Using subtle humor, parables, and a powerful grasp of life's deeper lessons, Dr. Woo ushers his students into the way of truth and higher consciousness to help them live lives of greater meaning and purpose. These tales, crafted by David, are sure to delight and entertain while providing the reader with small gems of understanding to contemplate.
Price: $19.95
Softcover: 360 pages
Dimension: 8.5 x 5.5 x 1 inches
ISBN: 978-0-9760512-5-1
The Tales of Dr Woo Video excerpt "The Flute" Click here to watch

---
New Release – The Halo Meditation
Halo Meditation       Introduction to Meditation    Meditation Breathing
The Halo Meditation is the first release in the Meditation Series by David Price Francis & Debbie Danbrook. The Halo Meditation is designed to help you connect to the energizing and healing power of the planet, which naturally boosts your electro-immune system and your personal energy field. It will also help you create a more potent connection to your inner spiritual power which then causes the formation of an energetic solar disc or halo above the head. This halo formation in turn helps you connect to the healing power of the sun which brings fresh inspiration and vigor throughout your energetic and physical systems. The Halo Meditation also encourages the activation of your pineal gland and powers the beaconing light of your spirit, both within you and out into the world.
BONUS: The Halo Meditation also includes two complementary downloads – Introduction to Meditation and Meditation Breathing.
Price: $5.95
Buy now
To introduce their new meditation series David and Debbie have created a video in which David offers five contemplations on meditation, accompanied by Debbie on the Shakuhachi flute. Watch here:

David is currently collaborating with artist Debbie Danbrook❊ on a series of new meditations. The Halo Meditation, the first meditation in this series, is now available at our shop.
❊ Debbie Danbrook is a musician, composer, and recording artist specializing in music for meditation, relaxation and healing. She is a Master player of the shakuhachi flute, an ancient Japanese instrument that was originally played by monks as a type of Zen called "suizen" or blowing Zen". The shakuhachi's revitalizing and powerful sound vibrations lead to a relaxed meditative state where healing can take place for both the player and listener. Debbie is the first woman to have mastered this difficult instrument and weaves the shakuhachi together with her voice in her thereal music. (www.healingmusic.com) .
---
Books By Joanna Infeld
Insight, Moments of Being by Joanna Infeld
NEW BOOK NOW AVAILABLE by Joanna Infeld
Insight, Moments of Being follows the adventures of Barbara who has been initiated into the worlds of spirit and esoteric understanding first by her grandmother and then by a mysterious teacher whom she visits on the astral plane. It is the story of her journey from student to teacher and the subtle yet profound transition when she realizes that it is time to pay back for the gifts she has received. Unfolding within the backdrop of New York City, Barbara's odyssey takes her to Cleopatra's Needle, the Egyptian Gallery at the Metropolitan Museum, the Garden of Stones at the Jewish Heritage Museum, a painting of Joan of Arc and other New York landmarks. Insight, Moments of Being is the third book in a trilogy but stands on its own as a profoundly beautiful spiritual read.The first two books In-Formation, Moments of Realization; and In-Tuition, Moments of Awakening are available at EnergyWorlds.com & Amazon.com.
Price: $15.00
Softcover: 197 pages
Dimensions: 6 x 9 inches
---
A GARDEN OF QUALITIES:
LIVING A QUALITY LIFE
A Garden of Qualities is a collection of essays, meditations, and exercises specifically designed to help you choose the qualities you would like to develop and bring more deeply into your life. The benefits of consciously cultivating qualities are manifold and include an increase of personal potential, a rise in feelings of self-esteem, a greater sense of regard from others, and a more profound richness of experience in all our relationships. Wherever we are in our journey along the path of personal development, this book offers thoughtful reflection and guidance to growing and enhancing the garden of qualities within.
Price: $12.95
Softcover: 194 pages
Dimensions: 8 x 5 inches
ISBN-10: 978-0-9815509-8-5
ISBN-13: 0-9815509-8-3
---
QUALITIES:
10 PART AUDIO SERIES
The "Qualities" audio seminar (approx. 10 hours) concentrates on nine qualities out of many that you can develop. This audio seminar features Joanna Infeld providing participants with insightful instruction, stories, and exercises and is excellent on its own or as a companion to A Garden of Qualities  book.
The "Qualities" 10-part recordings are:
Introduction – what is a quality and how do you connect to a quality?
Care
Hope
Humility
Patience
Belief
Understanding
Respect
Radiate – Radiating the qualities of your choice into your energy field.
Life – Living a life of quality.
Price: $12.95
---
GOD'S SPIES:
GRATEFULLY AGING
This book is part memoir, part workbook with exercises and contemplation to help appreciate and make the most of the aging process. With the wisdom of old age comes the benefit of experience and a more thorough knowledge of who one is and what one wants to achieve in life. It is a time of grace when the spiritual questions come on screen and a person searches for answers about the meaning of life.
Price: $15.00
Softcover: 123 pages
Dimensions: 8 x 5 inches
ISBN 978-0-9815509-6-1
---
7 AGES OF WOMAN:
HOW TO FULFILL THE 7 AGES OF YOUR LIFE
This book explores the seven ages of a woman's life from birth to death and how each stage relates to the seven colors of the spectrum. Every eleven years we enter a new sun cycle and as we do so, the energy we process changes. In this book you will find practical meditations, prayers and ceremonies to acknowledge these seasonal changes and to help every woman find ways to improve her life.
Price: $19.95
Softcover: 185 pages
Dimensions: 8.5 x 5.5 inches
ISBN 978-0-9760512-1-6
---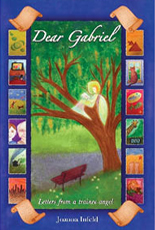 DEAR GABRIEL:
LETTERS FROM A TRAINEE ANGEL
Angels are all around us. They might not look like humans or even have wings, but there seems to be overwhelming evidence that there are forces and intelligences that support the human endeavor and are encouraging the continuing evolution of the human species. This book is an attempt to look at our world from their perspective, trying to see the various facets of the human story—from the ridiculous to the refined, from the tragic to the humorous and from the coarse to the Samarital. This is our story, but it is viewed from an unusual angle, giving an insight into the psychology, taskings and tribulations of an entity sent to this planet to help the human race.
Price: $13.00
Softcover: 130 pages
Dimensions: 8 x 5 inches
ISBN 978-0-9760512-8-2
---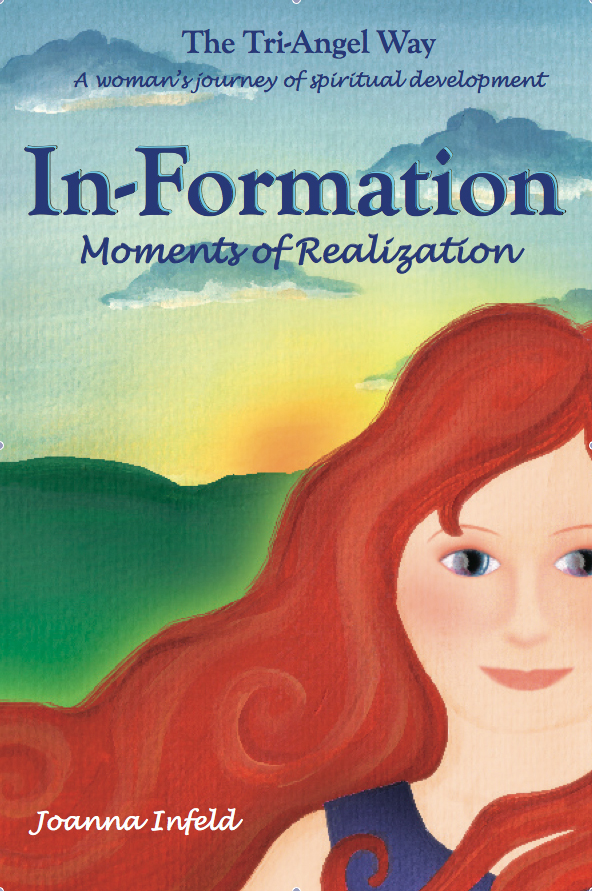 IN-FORMATION:
MOMENTS OF REALIZATION
In-Formation; Moments of Realization is the story of a young woman who is in search of a meaningful relationship, a career and her independence. She learns lessons from her grandmother who is a healer and a shaman and had cured her of cancer. The lessons she learns are about living a life, dealing with people, handling her own and other people's psychology. But above all, it is about healing—healing the mind, the body and the spirit to become who you are meant to be.
Price: $16.50
Softcover: 277 pages
Dimensions: 9 x 6 inches
ISBN 978-0-9760512-4-4
---
IN-TUITION
MOMENTS OF AWAKENING
In-Tuition; Moments of Awakening is the story of a woman who finds her way out of a mundane existence into a land of enchantment where she encounters a teacher and receives 21 lessons about life, how to think about herself and the world around her, human psychology and dealings, and how to have greater value for planet Earth. Having received these insights she can no longer go back to her habitual, ordinary life, for within her there now is a seed of extraordinary revelations and understandings. She must find new ways of living to fulfill the promise of her recently acquired education and to earn admission into the next term of this unusual development process.
"Keep questioning who and what you are because as you grow and change, so will your desires, priorities and needs. Treat every day as if it were your first and your last—in fact, your only chance to learn, to be, to do. For that is the truth—your time is now and it will always be now. Then all those nows will finally add up to become your own unique work of art—your life."
Price: $12.00
Softcover: 136 pages
Dimensions: 9 x 6 inches
ISBN 0-9760512-3-0